Tenth Installment: Let's Get Personal, "From Fraternity to Paternity"
"Conversations With and About Mike"
Key Advice
When starting to think seriously about this biography project,  I sought advice from Mike Kirst's long-time friend and professional colleague, Jim Kelly. As the founding President and CEO of the National Board for Professional Teaching Standards (1987–1999), Jim Kelly knows about teaching, teachers, education policy, and finance; and he really knows a lot about Mike Kirst—who he is and what makes him tick.
Jim was eager to help, immediately serving up this gently chiding encouragement:
"Sure—always glad to talk about Mike. I want to see the outline you must be developing for his years [during his] fraternity at Dartmouth. We all know he's smart, and one of the nation's absolutely top education leaders. OK, you've gotta write about all that serious stuff, but make sure you don't drift off into 'do-gooder drivel' and thus miss the 'whole guy'—the guy who gave beer-tasting parties at Stanford, avidly follows favorite sports teams, who is a great father and husband…and yes, the education policy-maker with an amazing career." 1
Turns out Kelly's right:  the "whole guy" perspective helps Mike come alive for all of us. So that's the emphasis of this and the next "Let's Get Personal" installments of  Conversations With and About Mike.
This installment shines a light on key aspects of the "whole guy" by portraying Mike's life especially in his early college, grad school, and beginning career years, which includes the start of his family with his first wife. It also includes later stories of his meeting, courting, and marrying Wendy (shown above), to whom he's been married for forty-five years come this fall.
(The next installment will help us understand the "whole guy" by focusing on Mike's relationship with  John Gardner, probably best known as the founder of the lobby Common Cause, who, in Mike's own words, became a "kind of father figure" through a relationship that developed over a span of half-a-century starting in Washington, D.C. in the '60s and lasting through the beginning of this, the twenty-first century on the Stanford campus.)
A "Braided" Story
You've now been introduced to the three main characters in this first episode of "Let's Get Personal": Wendy, Jim, and Mike.
Jim is very much in the middle of the Mike-and-Wendy pairing in this episode—just as we'll find Wendy to be much at the core of the Mike-and-John Gardner pairing featured in the next installment.
It's this braiding of the Jim, Wendy, and John Gardner strands in Mike's personal and professional life that helps us understand and enjoy Mike as a "whole guy," with the timeline on the right providing a unifying "chronological GPS" for weaving our way through this initial fraternity-to-paternity period and the start of the next John Gardner-focused installment.
The Fraternity House Years: According to the "Two Mike's"
As Kelly advises, let's start by hearing about Mike's fraternity house years.
Mike wrote with fondness about his fraternity years a decade ago in his entry for his 50-year Dartmouth reunion book, The Paths We Have Taken:
"I joined Theta Delta Chi and developed a work-hard/play-hard pattern that lasts until my late 20s. At 71 [years old], I reflect on the amazing parties, the road trips, and legendary Dartmouth characters that existed during that era." 2  
Turns out, though, that the other Mike Kirst, his son, known in family circles as  "Chip" and now in his 50s living in Brussels, Belgium, tells a much better story these days about those "Theta Delt" years than Mike offers. I think you'll enjoy listening to how Chip helps us follow Jim's advice in telling this story about his dad:
Clip 1: "Dad has some great … old fraternity stories… He was the life of the party" for my friends when he told them. 3
So thanks to Chip, maybe we all might think of Mike a bit differently now. 
A Stanford "Take" on a Wedding Story 
Still, on a lighter note, let's fast-forward a few decades later to Mike's reference to the site of his second wedding: he and I were walking from his Stanford office to his car in the fall of 2018. Suddenly he asked, "Do you know where I got married to Wendy?"
Let's listen in:
Clip 2: Mike comments on his and Wendy's 1975 wedding: "Talk about Stanford connections: that's one." 4
Mike makes this comment pointing to a grove of trees on the Stanford campus near an outdoor amphitheater where Mike and Wendy were married. And this amphitheater was also in sight of the Center for Educational Research at Stanford (CERAS) building where the wedding reception was held—and across from Mike's office.
---
Key "Backstories"
The "Wendy Backstory"
Here's how Wendy describes what led to this wedding tableau, first by giving us a glimpse of what it was like then working in the San Francisco Bay area as a female commercial real estate agent, why she had moved to the Palo Alto area, and her first get-together with Mike.
Clip 3: Wendy struggling in a male-dominated work world in the '70s and a special dinner 5
The mutual friend Wendy mentions who introduced her to Mike is Jim Kelly, who, as we heard in the audio clip above, attended their 1975 wedding ceremony and reception. At the time, Kelly was a senior program officer at the Ford Foundation (1970–1981), funding several of Mike's education state finance and governance research projects.
Other Stanford "Love Stories" for Mike and Wendy
Standing with Mike at his wedding, other than his slightly older brother John, are his two young children from his first marriage 3, his daughter, Anne (not quite 8 years old) and Chip (aged 10).
While Anne has only vague memories of the wedding, she's clear that "Wendy and my dad are both so committed to Stanford. They just have this deep love for the university."
Anne, now married for almost three decades to Kenny Greco, has two adult children in their twenties, Justin and Taia, and lives on their 30-acre horse ranch north of Sacramento about 200 miles from Stanford.
She enjoys telling this story of her Dad and Wendy: "Wendy and my Dad still take my husband Kenny around the university and show him all the new buildings because he works in the area sometimes. And that's their new thing: every time Kenny stays down there, they take him to a different part of the university because they just love showing it." 6
Mike's son Chip speaks of a related passion of Mike's at Stanford…Cardinal football:
Clip 4: "My dad was a season ticket holder for 50 years" 7
So again Chip, speaking of decades in the football stands with his father, helps us see another "major  part of who [Mike] is" … when "not talking policy."
The Wendy and John Gardner Backstory
The reason I asked if Jim Kelly had been the best man at Wendy and Mike's wedding was that I had heard that he had been the "matchmaker," setting up their first date a year earlier.
Jim prefaces the telling of his first-date anecdote by relating how before he began his work for the Ford Foundation, he and Wendy had first met in 1968 when John Gardner, as the new chairman and CEO of the National Urban Coalition, had persuaded him to lead the education strategy component of the group's efforts in its fight against inequality and racism. Especially during the Great Society era, Gardner was broadly recognized as "one of the most powerful behind-the-scenes figures in education." 8
Throughout the late '60s and early '70s, Wendy and Jim became close colleagues as the Urban Coalition grew in size and visibility in times of violent protests in cities across America. Gardner in these days was on the hunt for the best platform to help address the country's most fundamental social justice issues "to create open, honest, and accountable government that serves the public interest, promotes equal rights, opportunity,  and representation for all, and empowers all people to make their voice heard in the political process." 9
He moved in rather quick succession from taking over the Urban Coalition as chairman and CEO in 1968 and then two years later, departing that position to found Common Cause in 1970 to advance this agenda.
Wendy stuck with Gardner through these several moves in these years, as what she called his "secretary number two," having graduated from Smith College and then one of the leading executive assistant training academies, the Katherine Gibbs Secretarial School. She remained with John, as she notes, "for a couple of years…through whatever organization John Gardner was then attached to or head of, I was along for that ride." 10
As we'll see and hear in the next installment, Wendy continued to play an important role for Gardner, several decades and 3000 miles later, as she helped him buy his Palo Alto house, just across the park from her and Mike, as she by then had earned the distinction of being the first female commercial real estate broker in Santa Clara County. 11
And…Finally, the "First Date" Story
So, time now to listen to:
Clip 5:  Jim Kelly's story of  Mike and Wendy's first date 12
Wendy recalls that from the beginning, Jim thought this first date with Mike "could result in something interesting." She acknowledges that there were "fireworks" from the start and that it "just felt like the right thing," adding, "Bam! It just really came together." 13
Later, when Mike "retired" from Stanford, Jim wrote to Mike: "The most wonderful memory of all is how fantastic it was that you and Wendy met and proudly I have recalled my part in arranging that incredible connection. It was like magic that evening. It happened in minutes, it seemed to me. I could hardly believe it was happening! Being able to play that kind of role in your lives has meant more to me than five careers of professional collaboration." 14
 The Janet Elliott Backstory
Just a few months earlier Mike had confided to Jim that he and Janet (his first wife) were divorcing after 13 years. Janet was the former Janet Elliott and the mother of Mike's two children, Chip and Anne. She and Mike had met during Mike's "Fraternity House" years and married shortly after Mike's graduation from Dartmouth.
Janet was a secretary for a lawyer in Boston, John Saltonstall…"a very, very high-class firm, as you would imagine, on State Street in Boston," according to Mike. 15
Mike tells of going "down to Boston a lot," either paying his friends who had a car for rides or taking what he calls "the famous Boston and Maine Railroad" (B&M) which traveled from White River Junction, across the river from Dartmouth, straight into Boston.
Often Janet would come to Dartmouth for weekends on the train. "She loved all the parties at Dartmouth" and she liked "all the characters" at the fraternity, according to Mike.
He concluded though, "In retrospect, we got married too young, in too much of a party scene, and…" as he chuckled, "…too little thinking about life."
They married on September 16, 1961 right before Mike began his Harvard graduate studies and moved into student housing. Janet continued to work as a secretary in Boston as Mike pursued his doctoral studies. Mike explained, "I had financial aid from Harvard. She worked and earned a decent wage. We were solid financially, with a reasonably-priced apartment Harvard had recommended…right by the subway." 16
At the conclusion of his Harvard doctoral studies, they moved to Arlington, Virginia for the first of several education and policy positions in D.C. (1964–1969…see Mike's resume for details) and for the beginning of their family years. They later moved to McLean, Virginia in … "a house on an open hillside, in a highly sought-after neighborhood…and even less expensive than in Boston," as Mike reports.
Chip and Anne 
Janet worked for a few months in the D.C. area, but as Mike comments, "you know, you worked a while, then people generally had kids when they were 25…" (Mike and Janet's approximate age at the time) "…and so we had the first one" (son Michael "Chip" Elliott Kirst on March 4, 1965).
A  little more than two-and-a-half years later, on September 20, 1967, Mike and Janet's second child, Anne Medin Kirst, was born in the same Alexandria Virginia Hospital. 17
–
And Once Again, Back to John Gardner
Mike, who at this time (1966) was the associate director of the White House Fellows Program,  proudly recalls their McLean home: "when members of the program came out for a party, they were really impressed."
It was in this capacity of leading the education component of the Fellows program, that Mike first met John Gardner, who was then Secretary of Health Education and Welfare (HEW), and who had first proposed the program to President Kennedy in 1957, which President Johnson established in 1964.
Because later Gardner becomes such an important figure in seeing Mike as a "whole guy," let's listen to Mike retell the story of his first exchange with the man he would come to regard as "sort of a father figure":
Clip 6: Mike's first meeting with John Gardner:  "very substantive" and "memorable" 18
In the next installment, we learn more about how this relationship between Mike and John Gardner unfolded. For different reasons, however, neither would be in D.C. three years later.
By 1968 John Gardner would be back in New York as chairman and CEO of the Urban Coalition with Wendy (then Burdsall) as his secretary, and Mike would have first met with Jim Kelly. And by 1969 Mike would be taking his first cross-country drive, now as Mike likes to call it "as an accidental professor" 19 from the Virginia suburbs of D.C. to Stanford University, with Janet and their two children, Chip (then 5) and Anne (not yet 2 years old).
The Mike and Jim Backstory
Mike and Jim first met in 1968 (the same year Jim met Wendy at the Urban Coalition with John Gardner) at a dinner in D.C. hosted by Tom James, then Dean of Stanford's School of Education and a key mentor of Jim Kelly during Jim's Stanford years. Dean James tried to recruit Mike to Stanford to join a new interdisciplinary state and federal education policy group at the university. Later that year, U.S. Senator Clark, for whom Mike was staff director of the subcommittee on Manpower, Employment, and Poverty, lost the election along with a swath of other Democratic candidates, including Hubert Humphrey. As Mike pointedly notes in his interview with the John W. Gardner Legacy Oral History Project, "So, I'm twenty-nine years old, with two children, and fired almost immediately." 20 (See Installment 9 for details.)
So Mike reluctantly moved his young family to California in 1969, accepting the position Dean James had offered him—as a professor of education with a courtesy appointment in business administration and affiliated faculty in Stanford's Department of Political Science and Public Policy.
The "Serrano Factor"… and Foreshadowing
In the early '70s, as Mike settled in at Stanford, Jim Kelly traveled frequently to Palo Alto on behalf of the Ford Foundation, which had funded several of Mike's education finance research projects in Jim's program area of school finance and equity.
In 1971, California's Supreme Court had ruled in Serrano v. Priest that the state's property tax-based funding of its schools was unconstitutional. At that time, California could boast that it ranked in the top 10 states in the country for the amount of money it spent on K-12 students, on average, per pupil; however, beneath this overall spending level were deep inequities for individual districts across the state based on their communities' wealth and corresponding property-tax levels. (See especially pages 2–6 of Learning Policy Institute's The California Way: The Golden State's Quest to Build an Equitable and Excellent System for an excellent summary of the decision and its aftermath.) Mike's early work with Jim for the Ford Foundation very much influenced the "local-control funding, formula-based" school reform efforts Mike helped shepherd through during Governor Brown's last terms of office some five decades later. 21
So during these frequent trips to discuss their Ford work, they became close friends, and as Mike's and Janet's marriage ended, Jim was a colleague and confidante. And then later, as we heard earlier, a matchmaker.
Further Reflections By and About "The Whole Guy"
In looking back at this divorce, an inflection point in Mike and his young family's life, Jim and Mike both take respectful views of Janet and the relationship, with Jim believing "they had two wonderful kids and a very "normal" life. 22
Mike adds, "We were really adults and we handled [the children part of] it well. I think Jan liked Wendy, respected Wendy, liked her." And now reflecting on his first marriage, having kids, and how this situation turned out, Mike puts this spin on that part of his life: "I've been thinking about it, to do it serially, if you wanted children, I don't really regret it." 23
Anne on Her Dad: Then and Now 24
Anne recalls that after the divorce, she and her brother spent about half their time at each parent's apartment, typically staying with their dad dependent upon Mike's travel schedule.  She noted that because they always lived within 15 minutes of each other, "it was very seamless."
"It was a very easy relationship," she feels, saying, "our parents remained friends."
Anne also recalls that "when my Dad had us for himself for that first couple of years, he was always really engaged and taking us to play basketball or doing things. He really embraced being a parent, after getting divorced. He rented a house nearby and learned how to cook, and always made a real effort to do fun things with us."
When I challenged Anne's portrayal of her dad as a cook, she replied with a chuckle, "Yeah, well we're talking macaroni and cheese." "But," she continued, "he was pretty good. And actually, Wendy had a really high-powered job. So after they first got married, he was doing a lot of the cooking and cleaning and vacuuming. And he was helping out a lot because she was commuting a lot to San Jose as the vice president of a leasing firm. She worked very long hours, and Dad really stepped up and helped out. So, he can do it. He keeps it simple and gets it done, and doesn't overthink it, and, you know, I think that's a gift in itself. Not to get all worked up about it."
(This theme emerges from others in Mike's later professional life as well, which we'll hear in later installments.)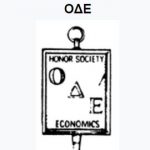 When I inquired if her dad had encouraged her economics major in college, she replied, "Not so much. Dad was always encouraging, of course, with education, as you can imagine. But he wasn't a 'helicopter Dad.'" Anne then added,"I think, though, that he was pleased when I chose economics and became part of the economics honor society. He gave me the pin that he received in college for that same honors society."
Chip on His Dad: Now and Then
Mike's son, Chip, also uses a story to illustrate what "balancing" influence his grandmother had on his dad when I inquired about who in his family did he think had the biggest influence on Mike, with Chip's reply being," It had to be his mother." Let's listen in:
Clip 7:  Chip: Mike's mother instilled in him a certain "lightheartedness"25 
The "Whole Guy" Through The Gardner Lens
While Jim Kelly was the matchmaker in the development of Mike and Wendy's personal relationship, Wendy was the matchmaker, as it turned out, for Mike's relationship with John Gardner, cited by many as one of the main influences in Mike's professional life.
Jim Kelly explains the relationship in this way: "John Gardner was like a second father to Wendy Burdsall, who became Wendy Kirst. And then Gardner's love for Wendy transferred and then embraced Mike."
Clip 8:  Jim Kelly: John Gardner's love for Wendy transferred to Mike 26
Mike concurs with Jim, especially emphasizing that the relationship which started in earnest during Mike's White House Fellow years in the '60s comes through what Mike calls "the incredible happenstance of Wendy."27
He believes that the relationship deserves an entire installment. And so will you, I think.
Stay tuned for installment 11 coming soon, but as a bit of a tease, let me say that when we hear Mike speak about John Gardner in the next installment, we'll find it matches quite closely to what others most admire about Mike.
Email correspondence with James Kelly, April 10, 2018.
 Paths We've Taken, Dartmouth 1961 Reunion Book. (2011). p. 207.
Michael E. (Chip) Kirst (Mike's son) interview with the author, August 8, 2018.
Recorded on a walk from Mike Kirst's office when approaching Stanford's Center for Education Research (CERAS), September 2018.
 Wendy Kirst interview with Nancy Mancini, October 10, 2018, for the John W. Gardner Legacy Oral History Project (SC1355), Department of Special Collections & University Archives, Stanford Libraries,
Stanford, Calif.
All quotations from Dick Jung's interview with Anne Greco (Mike's daughter), January 22, 2019.
Michael E. (Chip) Kirst interview with the author, August 8, 2018.
Mike Kirst interview with Nancy Mancini, May 3, 2018, for the John W. Gardner Legacy Oral History Project (SC1355). Department of Special Collections & University Archives, Stanford Libraries, Stanford, Calif. https://purl.stanford.edu/fb149yr2480
About Us. Common Cause. https://www.commoncause.org/aboutus/
Wendy Kirst interview with Nancy Mancini, October 10, 2018, for the John W. Gardner Legacy Oral History Project (SC1355), Department of Special Collections & University Archives, Stanford Libraries,
Stanford, Calif.
Mike Kirst interview with Nancy Mancini, May 3, 2018, for the John W. Gardner Legacy Oral History Project (SC1355). Department of Special Collections & University Archives, Stanford Libraries, Stanford, Calif. https://purl.stanford.edu/fb149yr2480
Jim Kelly interview with the author, September 10, 2018.
From the author's notes taken during a conversation with Mike and Wendy Kirst at their home, September 27, 2018.
April 3, 2006, from a letter Mike Kelly wrote for Mike Kirst's "Memory Book" upon his retirement from Stanford University.
Mike Kirst interview with the author, March 6, 2020.
Mike Kirst interview with the author, March 6, 2020.
Amundson, L.H. (2006). Norwegians Swedes and More Destination Dakota, Book Four, p. 419.
Mike Kirst interview with the author, March 6, 2020.
Mike Kirst's Autobiographical Reflections, June 9, 2014, presentation for the Stanford Emeriti Council. Republished February 5, 2015, by Stanford's Center for Education Policy Analysis. https://searchworks.stanford.edu/view/nc116hr7647
Mike Kirst interview with Nancy Mancini, May 3, 2018, for the John W.
Gardner Legacy Oral History Project (SC1355). Department of Special
Collections & University Archives, Stanford Libraries, Stanford, Calif.
https://purl.stanford.edu/fb149yr2480
See for example:
Fensterwald, J. (May 2018} https://edsource.org/2018/state-boardof-education-president-mike-kirst-retires-and-reflects-on-changes-he-has-led/597625; Furger, R. C., Hernández, L. E., & Darling-Hammond, L. (2019). The California Way: The Golden State's quest to
build an equitable and excellent education system. Palo Alto, CA: Learning
Policy Institute https://learningpolicyinstitute.org/product/california-way-equitable-excellent-education-system
Jim Kelly interview with the author, September 10, 2018.
 Mike Kirst interview with the author, March 6, 2019.
All quotations from Anne Greco's interview with the author, January 22, 2019.
Michael E. (Chip) Kirst interview with the author, August 8, 2018
Jim Kelly interview with the author, July 21,2017.
Mike Kirst interview with the author, January 6, 2020.
TIMELINE: 1950s — 1990s
■ Mike Kirst
■ Wendy Burdsall/Kirst
■ John Gardner
■ Jim Kelley
Year(s) and Events

1957-61: Mike's College Days

1957

Mike pledges Theta Delta Chi fraternity at Darmouth

1957

John Gardner proposes idea of White House Fellows Program

1961

Mike graduates from Dartmouth; marries Janet Elliott

1965-68: Great Society Era

1965

Mike's son, Michael (Chip) is born; in 1967 his daughter, Anne

1966

Mike meets with John Gardner regarding Fellows program

1968

Jim and Mike meet for first time—with Tom James, Dean of Stanford's school of education

1969-: Start of Stanford University Era

1970

Jim and Mike begin school finance work together for Ford Foundation

1972

Wendy moves to Bay Area to begin career in commercial real estate while maintaining contact with Jim, living on East Coast

1974

Jim arranges Mike and Wendy's "first date"

1975

Mike and Wendy marry on Stanford campus, Jim attending

1980

Wendy with her real estate expertise, helps Mike purchase home on Stanford campus as they raise Anne and Chip

1983-: Policy Analysis for CA Education Era

1989-90

Wendy assists John Gardner in purchase and renovation of home on Stanford campus

1990s

John Gardner and wife Aida move to Stanford, becoming neighbors to Wendy and Mike