Seventh Installment: The Early Influences, Part 2
"Conversations With and About Mike"
"Perhaps more than any genre, nonfiction has been changed by the Internet, which turns a biography or history book into a series of fascinating leads." 
The New Yorker (September 2, 2019) 1
Indeed, internet searches have uncovered leads to aspects of Mike's early years that have intrigued even him: "I keep finding out new things," Mike Kirst wrote to me after the publication of the previous installment.
One example is the advertisement above for his dad's store in the Reading Times in 1918, which turned up in a recent internet search for this biography. When he saw it, Mike first realized that the store had a different location than the one he had known as a boy. That internet search also unearthed an article revealing, much to Mike's surprise, that the store was originally founded shortly after the Civil War in 1867. 2 
Recalling the purpose of this  biography project—"to make a fascinating man's life and accomplishments come to life to those most actively engaged in American education in the trenches"—we highlight a surprised reaction from Keith Shahan,3 a respected public high school principal and independent school head after reading the previous installment: "It's rather unusual for sports scholarships to lead to academic scholarships, but Mike shows it happens!"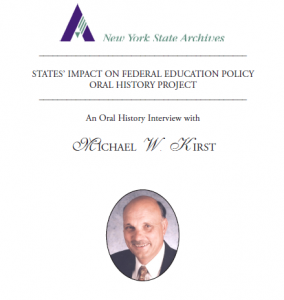 This installment also draws on oral history interviews that Mike recorded for "The States' Impact on Federal Education Policy Oral History Project" compiled in 2013 by the New York Archives. The transcripts for these recordings were also uncovered through an internet search. Until now these recordings had not been easily available, and we can benefit from these new (to us) insights into Mike's early years. 4
We learn from these oral history recordings more about the principal at Mike's high school cited "as an early influencer" in Installment 6.  Here is Mike's reply when Anita Hecht, the interviewer, asks if there was anyone in Mike's early schooling who "inspired" his interests in government and history:
Clip 1: High School History Teaching Principal: An Early Influence
B. Henry Schaeffer was the assistant principal who taught the "Problems in Democracy" course at Wyomissing High School in Reading.  Note Mike's appreciation that Mr. Schaeffer was "very strong as a teacher." Mike adds that he "intensified [my interest] in "problems of democracy and government," and that he wrote Mike's college recommendations which he felt  "were crucial into my getting into college."
More on Mike's sports scholarship leading to academic scholarship is revealed below as Mike describes the mix of his financial backing at Dartmouth.
In Installment 6, Mike described the move from Dartmouth's waiting list to admission as a center for the football team. His role on the team yielded a work-study football scholarship, which he describes more in detail in the clip below. In this installment, we also learn of his selection as an Alfred P. Sloan Fellow. This fellowship is awarded to students "in recognition of distinguished performance and a unique potential to make substantial contributions to their field" and "to stimulate fundamental research by early-career scientists and scholars of outstanding promise." 5
Mike received this fellowship because of outstanding grades as a freshman. In an interview, he added pointedly, "even though Dartmouth [originally had] put me on the waiting list."  Let's hear more about his financial, classroom, and social life at Dartmouth:
Clip 2: "I never paid another nickel to Dartmouth after the freshman year."
Note the contrast between the terms of Mike's football financial aid/work-study package and that of being a Sloan Fellow.
We hear in the next clip how the Sloan fellowship affected Mike's next three years at Dartmouth:
Clip 3: Sloan Fellowship Supports an Academic Focus
Mike makes no bones about it… "the work" in the dining hall under the terms of the athletic financial aid package "took time." With that responsibility removed by the Sloan fellowship, he "applied that time to studies," emphasizing "I liked doing that."
We also learn from the clip that during his second year at Dartmouth, freed of football practices and dining hall duty, he could focus on an earlier plan to earn an MBA through Dartmouth's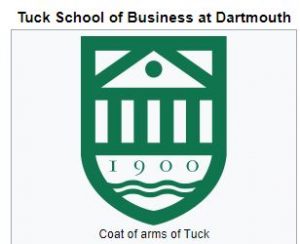 "Three/Two MBA Program" in the college's Tuck School of Business. The program allowed students with outstanding undergraduate grades to start the tw0-year MBA set of prescribed courses after their junior year, with the opportunity to earn an MBA degree only one year after earning a bachelor's degree.
His tenure "on the business side" of Dartmouth's student newspaper described in the clip aligned with this journey toward the Tuck School and earlier with his childhood experiences in Reading, Pennsylvania through his grandfather and father's Kirst & Son residential painting and decorating company.
Recall also from Installment 6 that Mike cited his summer internship in Washington (arranged by Martin Segal, his Dartmouth economics professor) as an experience that led him to be "hooked on Washington." This D.C. internship after his junior year at the Big Green also further peaked Mike's interests in economics and government, earlier fueled by his high school principal, Mr. Schaeffer, and trumping in some sense of an "obligation" he had felt when entering college to major in business in response to various family influences.
At the start of Mike's senior year, as a first-year MBA student, he moved from the undergraduate campus to the business campus. We  hear below how these living arrangements affected his studies:
Clip 4: MBA Housing Further Supports an Academic Focus
Again, even after Mike decides not to pursue an MBA and drops out of the Tuck program, he savors the more serious mood of the MBA students following their "strong and rigorous curriculum."
In addition to the clearly superior living conditions afforded him as an MBA student (and then a former MBA student), Mike has noted benefits that he received from exposure to the "MBA way of thinking" and more specifically to admonishments from a professor in his business writing class—to wit, "You've got to fix your writing. It's way too grand. You have all these needless words." Mike has credited this advice with making his writing ready "for when [he] got down to D.C."
A half-century later Mike's entry for Dartmouth's 1961 reunion book reads, "there was something about the teaching and subject matter [in those later years] at Dartmouth which catapulted me to a career in research, teaching, writing, and public policy." 6
In later installments, we'll learn about how Mike drew on the structure of the Dartmouth MBA program to establish a multi-disciplinary MBA program offered jointly through Stanford University's School of Business and Graduate School of Education—an oft-cited Kirst legacy at Stanford.
In Installment 8, coming up next, however, we hear about important influencers during Mike's doctoral studies at Harvard; some significant personal changes in his life; and, of course, some great stories that Mike likes to tell about those years.
Chaisson, D. (September 27, 2019). "Readers, I Googled It." The New Yorker: https://www.newyorker.com/magazine/2019/09/02/reader-igoogled-it
 The search terms used were variants of the name "Kirst & Son."
Keith Shahan served as High School Principal and Associate Superintendent at the University City School District in the St. Louis area in the '60s and '70s and then as Headmaster at the John Burroughs School, a private school also in St. Louis, and as Executive Director for the Independent School Association of the Central States (ISACS), accrediting thirteen Midwest states.
Mike Kirst interview with Anita Hecht, November 19, 2013, for The New York Archives: States' Impact on Federal Education Policy Oral History Project.
Alfred P. Sloan Foundation Research Fellowships.
Paths We've Taken, Dartmouth 1961 Reunion Book. (2011). p. 207.